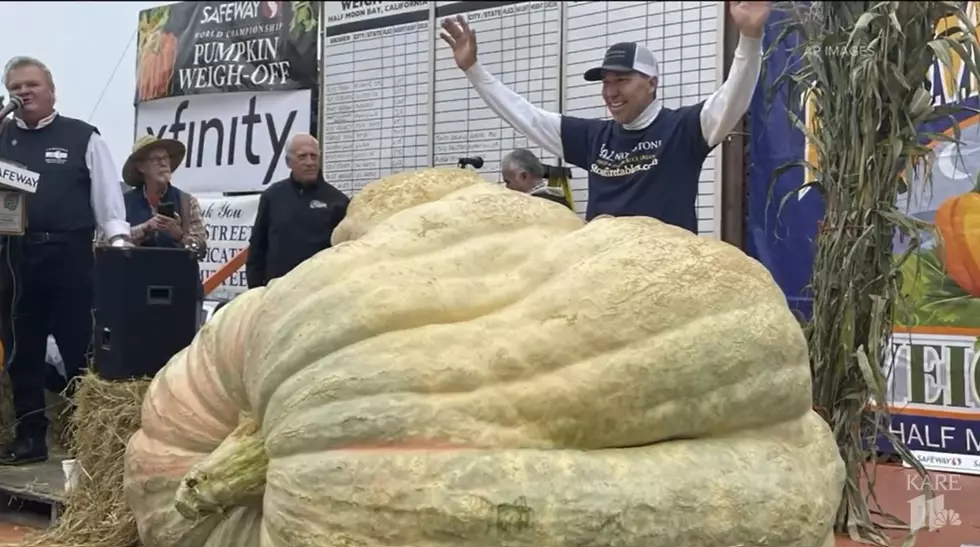 Minnesota Man Set's U.S. Record For Biggest Pumpkin
Photo: KARE11 Via YouTube
Travis Gienger, a horticulture teacher from Anoka Minnesota sure must have made his school and students proud by being crowned not only the winner of a giant pumpkin contest but also set a new U.S. world record in the process.
Gienger started off growing the prize pumpkin by dumping 5 pounds of dirt on the seeds and hoping for the best. He said that the pumpkin was really ugly when it first started growing and was somewhat off-color, but he soon saw how quickly this became a massive pumpkin.
So when it was ready he loaded up a truck and headed off to the 49th Safeway World Championship Pumpkin Weigh-Off in California. Even though they dropped the giant beast 2 separate times while trying to load the truck, it stayed intact thankfully.
In the end, the pumpkin weighed in at 2,560 pounds — four pounds heavier than a pumpkin grown in New York, that just last week, set the record. Gienger won the competition back in 2020 and topped last year's winner by almost 400 pounds. He said to Kare11:
Minnesota has a great midyear, but our spring in our parts is really, really tough. So to do it in Minnesota, it just shouldn't happen. It's like winning the Tour de France on a big wheel. You know, you can only hope, but it worked.
The winner of the contest receives $9 per pound and a "total mega-prize" of $30,000 for setting a new world record. Gienger was also really proud of the fact that his pumpkin was grown outside instead of in an indoor climate-controlled space which really added to the whole challenge. Given the fact too that Anoka is the Halloween capital of the world, it seems really appropriate that the winner was from there don't you think?
10 Little-Known Facts About Minnesota
10 Very Minnesotan Halloween Costumes