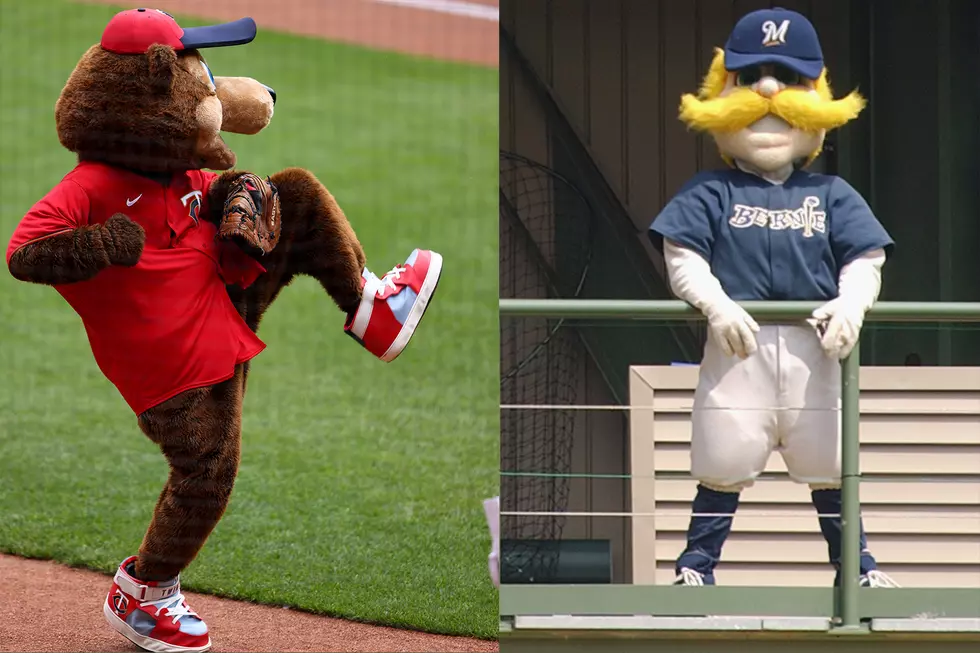 Minnesota Twins' TC Bear, Milwaukee Brewers' Bernie Brewer Mascots On Opposite Ends Of New Popularity Ranking
Adam Bettcher/Jonathan Daniel - Getty Images
We're well into baseball season, and a part of being at the stadium and watching your favorite team is seeing the mascot roam the stands and interacting with fans. While some mascots are pretty well loved by fans, others...well, not so much.
An online gambling website called Play USA surveyed Major League Baseball fans on their thoughts about the league's mascots. The site had those being surveyed rank mascots on a scale of 1 to 5, with 5 being most favorable. They did note that the survey accounted for only 27 teams, as the remaining 3 (Angels, Dodgers, and Yankees) don't have official mascots.
When it comes to the two local teams, the Minnesota Twins and Milwaukee Brewers find themselves on different ends of the spectrum among the 27 teams the survey considered.
When it comes to the Twins, TC Bear ranks inside the top 5, landing at number 4 overall. Nice! TC scored 3.67 out of 5, which is just 0.28 off the top mascot in the league.
So, who beat out the Twins mascot? The Colorado Rockies' mascot Dinger came in at number 3, AL Central opponent Detroit Tigers and their mascot PAWS came in second, and the top team mascot in the league according to the poll was Clark the Club of the Chicago Cubs.
If the Brewers are on the opposite end of the poll as the Twins, you might have guessed they didn't rank so well. In the poll, Milwaukee Brewers mascot Bernie the Brewer showed up 19th on the list. Certainly not in the bottom 5 by any stretch, but certainly on the wrong side of the halfway mark. For reference, Bernie scored 3.18 on the same scale, compared to the Twins mascot's core of 3.67. The bottom team (the Cleveland Indians) scored 2.70, falling just below the San Diego Padres, Miami Marlins, and Tampa Bay Rays.
8 Hall of Fame Minnesota Twins
5 Most Beloved Minnesota Twins
In no particular order, these are five players that were different and unique from the rest and won Minnesota Twins fans over.