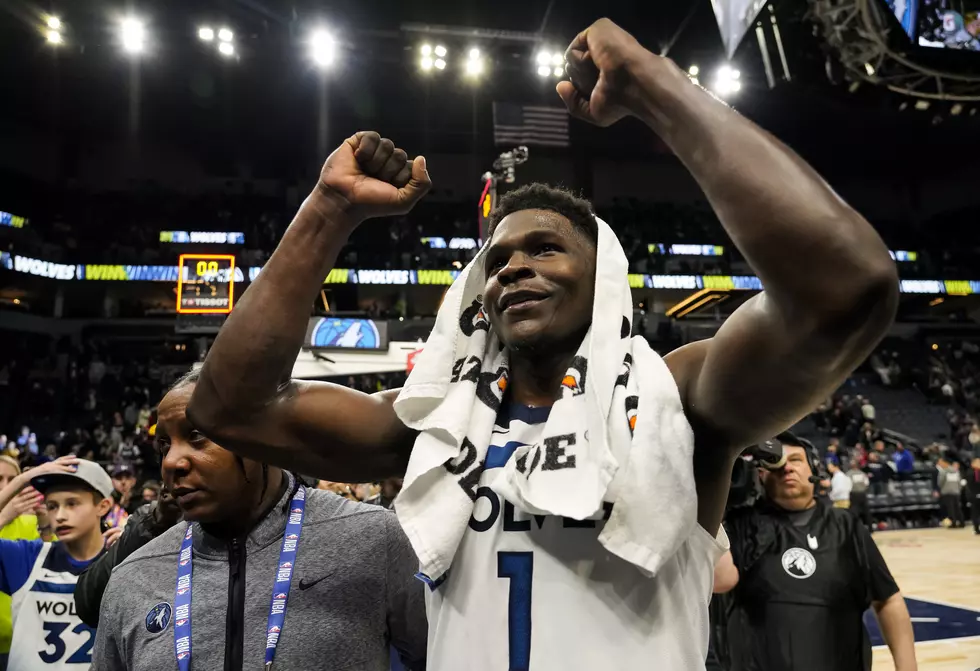 Russell, Edwards Help Timberwolves Beat Warriors In OT
Getty Images
MINNEAPOLIS (AP) — D'Angelo Russell scored 14 of his 29 points in the fourth quarter, Anthony Edwards took over in overtime after Russell fouled out and the Minnesota Timberwolves outlasted the Golden State Warriors 119-114 on Wednesday night.
Russell fouled out after two quick whistles in the first minute of overtime. That set the stage for Edwards.
After a scoreless fourth quarter, Edwards was aggressive in overtime, driving to the basket and scoring in traffic on multiple possessions. Edwards helped the Timberwolves — who trailed by 11 after three — complete the comeback. He scored just four of his 27 points in overtime but was the catalyst on offense in the extra session.
"We needed it," Timberwolves coach Chris Finch said about Edwards. "It was good to see him get to the paint."
Minnesota moved half-game ahead of the Warriors in the Western Conference standings.
Stephen Curry had 29 points and 10 rebounds for Golden State. Jordan Poole added 18 points, Klay Thompson had 14, and Draymond Green had 10 points and 12 rebounds. The Warriors had won three in a row.
Golden State committed nine total turnovers between the fourth quarter and overtime after turning the ball over eight times through the first three quarters.
"We had control of the game, and I thought we just kind of gift wrapped it," Warriors coach Steve Kerr said. "They took advantage of our mistakes and our lack of execution. ... Everything we had done to that point to have control of the game, we stopped doing, so we got what we deserved."
Russell hit three 3-pointers early in the fourth to help the Wolves claw back. After Russell got Minnesota back in it, Naz Reid hit multiple go-ahead shots, including a 3-pointer that made it a 110-108 game with 1:50 to play in regulation.
"I just think as a group, we did it collectively," Russell said. "It was just a balanced game from our group. Everybody pitched in."
Curry tied it at 110 on a driving layup and had a good look with five seconds to play in regulation, but missed. Minnesota couldn't get a good shot off at the buzzer, sending the game to overtime.
With Russell watching from the bench, Edwards hit a big shot in the lane to put Minnesota up 115-112 with 1:43 left. Reid, who had 24 points and 13 rebounds for Minnesota, closed out the victory with an emphatic dunk after rebounding his own miss in the final seconds.
"That's a team that's not going to back down," Reid said about the Warriors. "They're accustomed to winning, so when we bring it to them early, it just shows that we're not here to back down. We're really here to fight."
Curry was held to six points in the fourth and didn't score in overtime for Golden State.
The Timberwolves struggled from the free-throw line from the second straight game. Minnesota finished 13 of 24 after going 15 of 22 on Monday night against Sacramento.
Wednesday was Minnesota's second overtime game in a row. The Wolves were outscored 15-8 on Monday night in overtime.
TIP-INS
Warriors: Andrew Wiggins scored 16 points against his former team.
Timberwolves: Minnesota was without center Rudy Gobert because of soreness in his right groin.
UP NEXT
Warriors: At Denver on Thursday night.
Timberwolves: Host Orlando on Friday night.