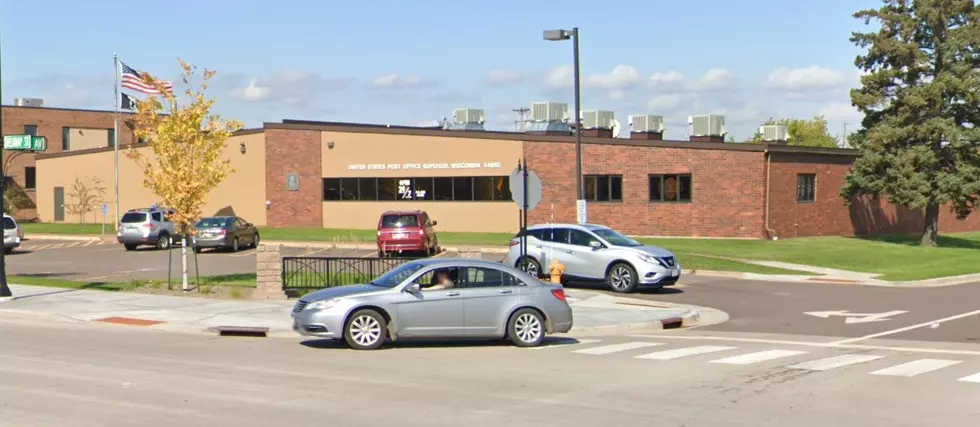 Superior Post Office Seeks Applicants To Fill Open Positions + Solutions To Delivery Problems
Google Maps
They're working on it. And, you might be able to help - in a couple of ways - to find a solution.
That's the message from the Superior Post Office, following the struggles they've had over the past year and a half.  Recent news stories have thrown a spotlight on the issues they've been having, and that has its inherent positives and negatives.
First the negatives.  Most route customers in the City of Superior have noticed the problems the post office branch has been having first hand.  Lost packages and letters.  Erratic delivery hours.  Long gaps  - sometimes a full week - without mail delivery to an address. Some have even experienced having mail returned to senders as "address unknown" when the address is correct and the person still resides at that location.
It's not what the United States Postal Service considers good customer service and it's definitely not what the local employees in Superior want.  In an article in the Superior Telegram [paywall], Superior Postmaster Nancy Pearson explains:
"We are all trying to get everything out.  We pride ourselves with good customer service and we are trying...and we will get back to where it's supposed to be.  Just for right now it's going to take some time."
And the acknowledgement of the issues the Superior Post Office is having aren't lost on upper management, either.  A representative spokesperson from the USPS shared the agencies take on the situation from their perspective:
"Local management in Superior is aware of delivery issues and taking steps to address concerns.  Some customers may receive mail every other day as compared to the normal daily delivery as we match the workload to available resources.  We appreciate the patience of our customers.  We will continue flexing our available resources to match the workload and are proud of the efforts of postal employees as they define essential public service every day."
For the Superior Post Office, the problems all come down to one issue:  the short-staffed nature of their workforce.  "On average, 36 mail carriers deliver in the City of Superior"; the department is currently looking to fill 12 of those positions.  Taking desk slots and rural routes into consideration, that means that the Superior Post Office is "roughly two-thirds" staffed.
It goes without saying, but if no one applies for the open positions, the post office can't fill them. And, things won't get better.
That's why the Superior Post Office is working so hard to get the word out about the open positions they need to fill.  They've also "streamlined the hiring process, as well as the timetable for moving from non-career to career employee".  Postmaster Pearson explains:
"We're no longer interviewing, we're not doing drug testing.  You apply and you pass the motor vehicle and background check and you're in."
And a job with the USPS is not without its benefits.  "The job provides vacation and health [insurance], as well as a starting hourly wage of $18.92 for a city carrier, $19.06 for a rural carrier".
Because of the current situation, postal officials remind applicants that sign up to be alert for confirmation emails from them.  That's because "...applicants only have three days to respond back to an offer".
10 Celebrities You Didn't Know Were Born In Wisconsin
Famous People Who Believe In Bigfoot
There are some famous people who believe in Bigfoot. Some of them even claim to have seen sasquatch in person.
See the Must-Drive Roads in Every State