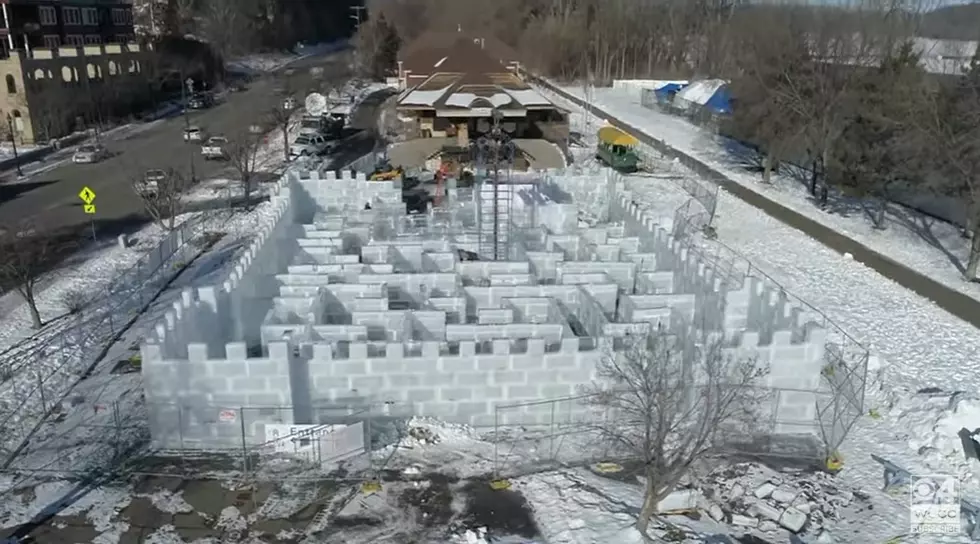 The Minnesota Ice Maze Is Now Part Of Winter SKOLstice In Eagan
Photo: WCCO/CBSNEWS Via YouTube
The massive Minnesota Ice Maze has a new home this year in Eagan at the Minnesota Vikings Headquarters for the annual Winter SKOLstice event. The maze was in Stillwater for the last two years outside the Zephr Theater. Calyssa Hall and her dad Franz both work at the Zephyr Theatre in Stillwater. The theater had been shut down for most of 2020 due to COVID so they were looking for a way to keep the non-profit theater going.
Franz who is an architect researched Ice Mazes and came up with the design. He found some builders who were able to complete the maze in 2 weeks. The Winter SKOLstice event is happening from  Jan. 6, 2023, and going through Feb. 19. The event times are Monday through Friday, 4 pm - 10 pm, and Saturday and Sunday, 10 am - 10 pm.
Minnesota Ice founder and CEO Robbie Harrell said to WCCO/CBSNEWS:
"We are thrilled to create this unforgettable experience for families across the metro with Viking Lakes. This year's maze will comprise 1 million pounds of ice and half a mile of passages. This will be the Twin Cities' "largest ice maze to date."
Some of the  Winter SKOLstice activities ice skating, pond hockey, and curling, there is also a Warming Haus with food and beverages. If you and your family don't want to skate the Ice Maze is a great place to check out and is fun for all ages. There is no news about why the Zephr Theater is not doing the Ice Maze this year, but thankfully it will be happening again this year providing a unique winter experience for everyone to enjoy.
10 Unique Activities To Take Up This Winter In The Northland
Things To Check Before You Turn On The Heat In Your Home For The Season