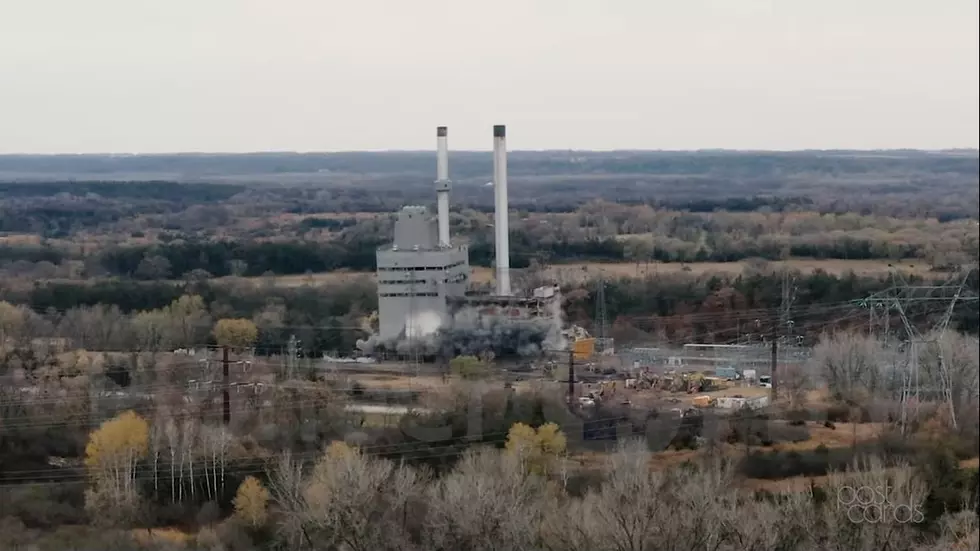 WATCH: Former Minnesota Coal-Fired Power Plant Get Demolished
Postcards Pioneer PBS via YouTube
A former coal-fueled power plant in Minnesota that was in operation dating back to the 1930s was demolished in a controlled implosion.
According to the West Central Tribune, the power facility was located in Granite Falls and was a landmark in the Minnesota River Valley for more than half a century.
The plant was built way back in 1930, and was expanded in 1953. The plant was located at 4064 Highway 212 East in Granite Falls and was retired in 2009. It stood roughly 280 feet above the Minnesota River Valley. It was a coal-fired plant that generated 75 megawatts of energy.
The plant happened to be a key source of electricity during periods of high electrical demand from the 1990s and 2000s before it was retired.
lXcel Energy will clean up and recycle the concrete, brick, and metals from the plant's structure, including iron, steel, copper, aluminum, and brass. The company will retain much of the site, and the area will be backfilled, graded, and seeded for restoration to a vegetated area.
Xcel Energy contracted with Veit to dismantle the plant. You can check out the video of the demolition below:
Some people tweeted out their thoughts on the demolition:
In other news, do you remember the Tugboat 'Lake Superior' that was sinking in Duluth's Harbor? Check out an update of what happened to it here.
Curious to know about things invented in the Land of 10,000 Lakes? Check out the list below:
13 Things You Never Knew That Were Invented in Minnesota
There are a handful of things that most Minnesotans know were invented in the state, like SPAM or Post-It notes, but did you know grocery bags with handles is a Minnesota invention? Let's take a look at some other little known Minnesota inventions.
20 Places The Bachelorette Should Film In Minnesota + The Twin Ports
Minnesota is home to Michelle Young's season of The Bachelorette. The Edina native will film in the state she calls home with her cast and crew in August 2021. Here's some places that would make a great filming location - and for any future season of any reality show.