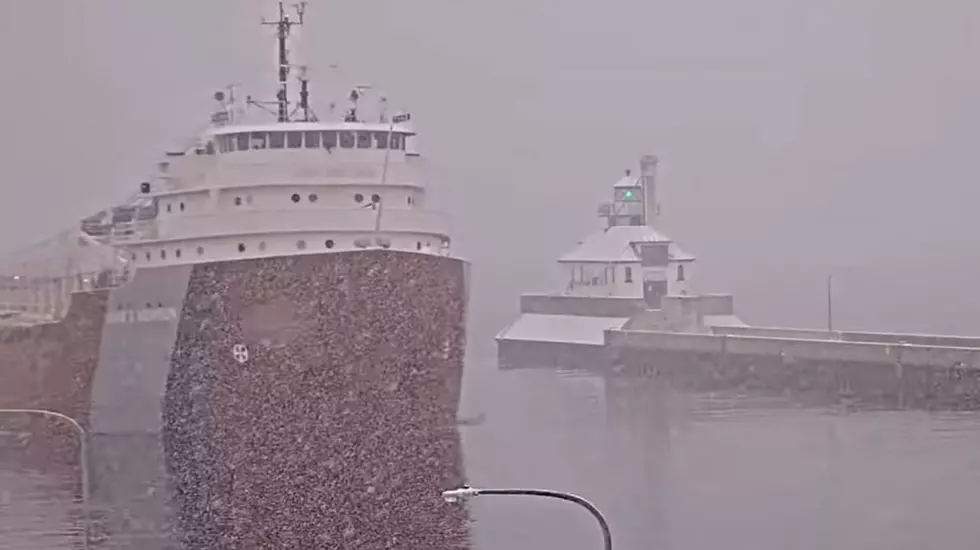 Watch The Snowy Arrival Of The John G. Munson In The Duluth Harbor
Duluth Harbor Cam
Watch the majestic winter arrival of the bulk carrier, the John G. Munson as it comes into the Duluth Harbor.
There's something magical about watching ships come into the Harbor. However, I feel like it's more spectacular when mother nature is doing her thing.
Remember when the Viking Octantis pulled into the Harbor when it was foggy? The cruise ship made an eerie arrival as the 672-feet long vessel pulled in. Of course, the cruise ship was part of the 'Great Lakes Collection' cruise. It has 189 first-class staterooms and can accommodate 378 passengers. This particular cruise is 15 days long that started in Toronto and ending in Duluth. You can check out that arrival here. 

The John G. Munson happens to be a bulk carrier that was built in 1952. The 70-year-old ship was bringing in limestone to unload. It just so came in during a beautiful snowfall and it couldn't look more majestic.
According to Marine Traffic, the length of the ship overall (LOA) is 234.16 meters and the width is 21.95 meters. It looks like it was making its way up to Two Harbors and the ship sails under the flag of the United States.
Check out the arrival during a nice little winter wonderland below:
In other Duluth ship news, you can find out what happened to the Lake Superior Tugboat that was sinking into the Duluth Harbor earlier this year, here.
Below, you can check out bad reviews of the Aerial Lift Bridge and Canal Park:
12 Bad Reviews Of Canal Park In Duluth
11 Bad Reviews Of The Aerial Lift Bridge In Duluth