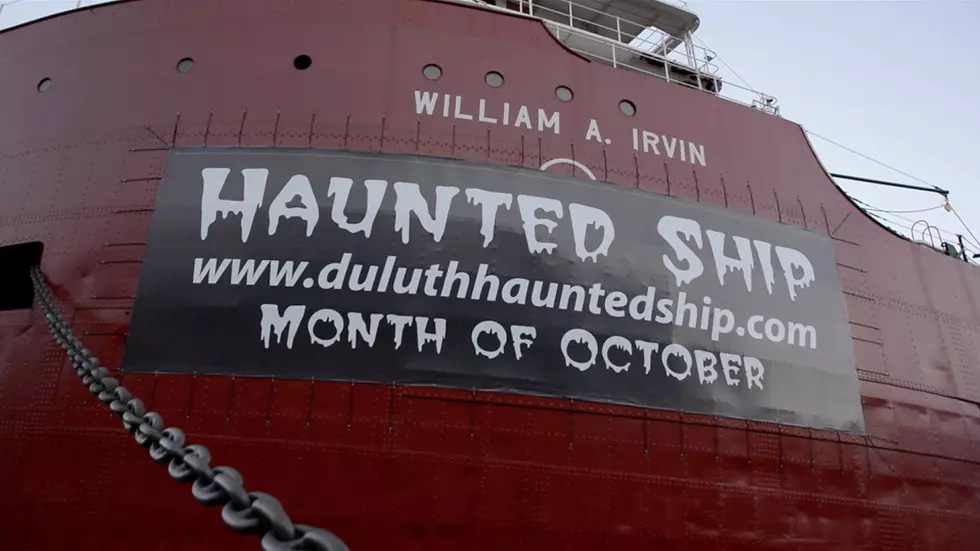 Here's The Haunted Ship Schedule For 2022 Halloween Season
Courtesy of Townsquare Media Duluth
It may seem a bit too early to be talking about this but Halloween season will be here before you know it. Fall is (almost) in the air and that means things are about to get spooky in the very best way.
In other Halloween related news: not one, but two Spirit Halloween stores will be opening in Duluth this year! The first one will be located in Miller Hill Mall, in the exact same storefront it was last year.
There will also be another massive Spirit Halloween store along Central Entrance, in the old Bed Bath & Beyond location near Buffalo Wild Wings. This will be the second location in Duluth and the first time anything has occupied the store since it closed earlier this year.
Spirit Halloween stores usually open near the end of August and into early September. While it may seem like this is too early, there needs to be time to shop in order to prepare for spooky season. Plus, the weather starts feeling like fall earlier than the average town which makes it okay, right?
One of my very favorite parts of Halloween in the Northland is the Haunted Ship. Where else can you go to a haunted attraction that is rumored to be haunted in real life and that is aboard a ship in a lake? It is unique and amazingly fun.
After some pandemic-related changes and project cancellations, the Haunted Ship was back in action last year. I went through and it was just as scary as I remember. It's fun to be able to see the inside of the William A. Irvin as well.
If you missed it last year or throughout the last few years, you will definitely want to check it out this year! I was doing some research and realized the schedule for the Haunted Ship is already online.
The 2022 Haunted Ship will officially kick off for the season on Thursday, October 6th. The schedule for the rest of the season is as follows
Thursday, October 6th from 6:30 p.m. to 10 p.m.
Friday, October 7th from 6:30 p.m. to 10:30 p.m.
Saturday, October 8th from 4 p.m. to 10:30 p.m.
Thursday, October 13th from 6:30 p.m to 10 p.m.
Friday, October 14th from 6:30 p.m. to 10:30 p.m.
Saturday, October 15th from 4 p.m. to 10:30 p.m.
Wednesday, October 19th from 6:30 p.m. to 10 p.m.
Thursday, October 20th from 6:30 p.m. to 10 p.m.
Friday, October 21st from 6:30 p.m. to 10:30 p.m.
Saturday, October 22nd from 4 p.m. to 10:30 p.m.
Thursday, October 27th form 6:30 p.m. to 10 p.m.
Friday, October 28th from 6:30 p.m. to 10 p.m.
Saturday, October 29th from 4 p.m. to 10:30 p.m.
Monday, October 31st from 6:30 p.m. to 10 p.m.
Not only can you attend the fun haunted attraction but you can also become part of that fun as a volunteer! The Haunted Ship is already seeking volunteers for the event this year. You have to be at least 18 years old to volunteer.
If you are interested in becoming a volunteer, you are asked to reach out to the organizers via Irvin@decc.org. They are seeking volunteers for the following roles and jobs:
Actors and ghouls with no experience necessary
Make-up artists
Costume design
Tear down crew
The Haunted Ship is located along Harbor Drive, right next to the DECC. Tickets are twenty bucks and are available online and in person. No one under 12 is allowed inside the Haunted Trip without supervision.
You can purchase a ticket for $27 bucks that allows you to skip the line. College students can get discounted tickets for $10 bucks with a valid student I.D. card. You can get tickets and more information year-round on the Haunted Ship's website should you choose to purchase them that way.
By the way, remember what I mentioned about the ship actually being haunted? Well, according to the Haunted Ship's website, there have been many hauntings caught on camera and video. Several ghost hunting groups have also been aboard the William A. Irvin with spooky results.
Chris Allen (of B105 and KOOL 101.7) even went aboard the William A. Irvin to do some ghost hunting himself! He documented the entire thing on video and results will give you chills. Maybe hold off on watching the video until after you're already off the haunted attraction. Ha!
16 Phases Of Going Through A Haunted Attraction
Going to haunted attractions is one of the best parts of fall and Halloween! Anyone that has been to one knows that there are different phases to going through a haunted attraction. All of them include being at least a little scared!
12 Places In The Twin Ports That Aren't Haunted But Look Like It