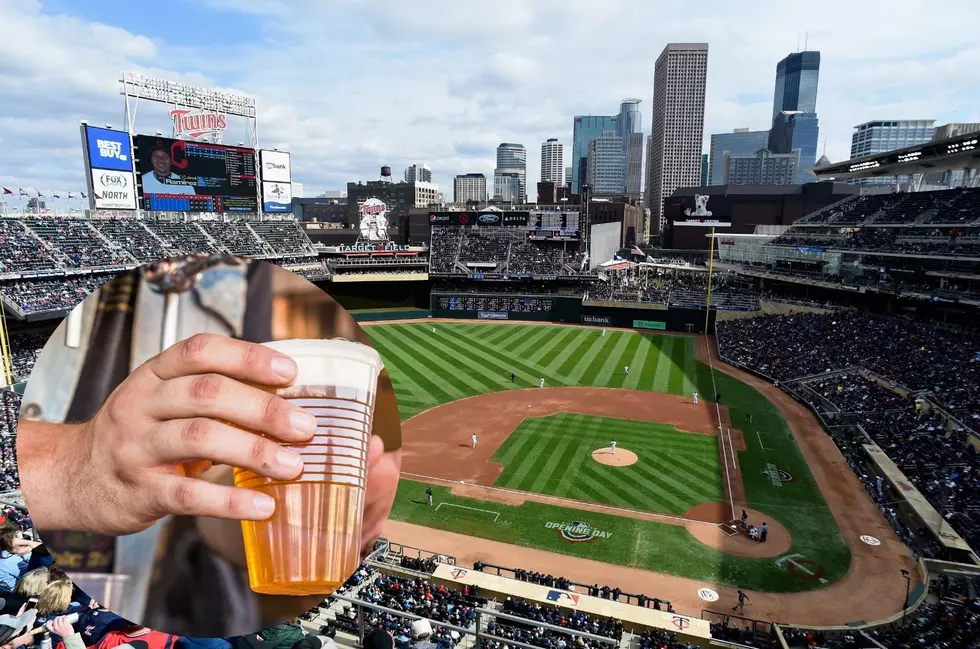 Minnesota Twins Fans in Top 12 for Number of Drinks Consumed During Games
Credit: Hannah Foslien, Thinkstock / Aleksandr_Vorobev, Thinkstock
When you go to a sporting event, drinks are flowing. And apparently Minnesota Twins fans like to have a few drinks while they're at a game. According to a recent survey, we're in the top 12 out of 30 MLB teams for the number of drinks consumed during a baseball game.
The survey was done by NJ Online Gambling. Us Minnesota Twins fans tied for the 6th place spot for the most amount of drink consumed. We drink an average of 3.5 drinks at a game. Tied at 3.5 drinks with us are Baltimore Orioles fans, Detroit Tigers fans, Milwaukee Brewers fans, and New York Mets fans.
So if 3.5 drinks got us the 8th place spot, how many drinks are the top 7 having per game? Let's go through the rankings:
5. (TIE) Washington Nationals fans and Colorado Rockies fans: 3.6 drinks per game
4. San Diego Padres fans: 3.7 drinks per game
3. (TIE) Cleveland Indians fans and Cincinnati Reds fans: 3.8 drinks per game
2. Atlanta Braves fans: 4 drinks per game
1. Chicago White Sox fans: 4.2 drinks per game
Also according to this survey, Minnesota Twins fans are some of the biggest pre-gamers. They say that 60% of fans are most likely to drink before the game starts. The baseball team with the highest percentage of fans most likely to drink before the game are fans of the Toronto Blue Jays.
One other thing they looked at in this survey is the biggest lightweight drinkers. Minnesota Twins fans were not on this list but the number one fan-base of "fans most likely to have missed some or all of the game due to drinking too much" also happens to be the fan-base that drinks the most: Chicago White Sox fans.
Speaking of the Twins, did you see the beautiful home that was being sold a little while ago that was owned by a Twins player? It has an ice rink and brewery in it! Keep scrolling to check out pictures.
DREAM HOUSE: Perfect Minnesota Home For Sale Features Brewery and Ice Rink