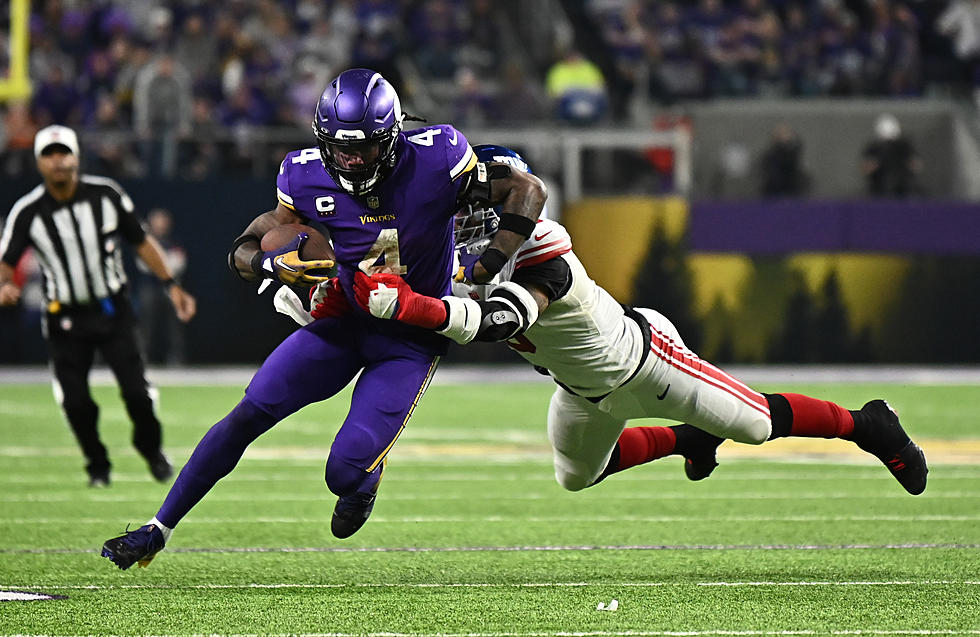 Report: Minnesota Vikings Star Running Back Dalvin Cook Being Cut By Team
Getty Images
Speculation about the future of Dalvin Cook with the Minnesota Vikings this offseason has pointed to the team potentially trading away the star running back. Apparently, no deals have materialized thus far (likely due to his contract), because the team is reportedly planning to cut the former Pro Bowler.
ESPN NFL insider Adam Schefter shared a series of tweets Thursday morning, explaining the team has informed Dalvin he will be getting let go and looking at what's next for both he and the Vikings.
Schefter says the team will make one more attempt at trying to find a trade partner for Cook, but if they are unsuccessful, the plan is reportedly to officially process his release from the team on Friday (June 9). The team waited until after June 1, saving them a considerable cap hit of $9 million, while taking on $5.1 million in "dead money" on this year's cap. The Vikings will still owe Dalvin $2 million this year after he is released.
Potential landing spots for Dalvin, according to Schefter, include the Miami Dolphins and Denver Broncos - among other teams that will likely emerge as interested parties once he hits the market.
This makes the backfield for the Vikings Alexander Mattison's, with support from Kene Nwangwu, Ty Chandler, and DeWayne McBride.
The financially-motivated move away from Cook marks the third big name departing the Vikings this offseason, following the release of both Eric Kendricks and Adam Thielen. Kendricks found a new home with the Chargers, while Thielen is now a member of the Panthers.
Cook will depart the team coming off four straight Pro Bowl appearances through his six years with the team. He finished last season with 1,173 rushing yards and 8 touchdowns, compiling a total of 5,993 rushing yards, 1,794 receiving yards, and 52 total touchdowns (47 rushing, 5 receiving) over his time with the Vikings.
He stands as Minnesota's third-leading rusher, behind only Robert Smith and Adrian Peterson, with his 5,993 rushing yards in purple. Additionally, his 47 rushing touchdowns place him fourth in Vikings franchise history among running backs.
Adam Thielen Highlights With The Minnesota Vikings
Looking back at the incredible career of Adam Thielen with the Minnesota Vikings.