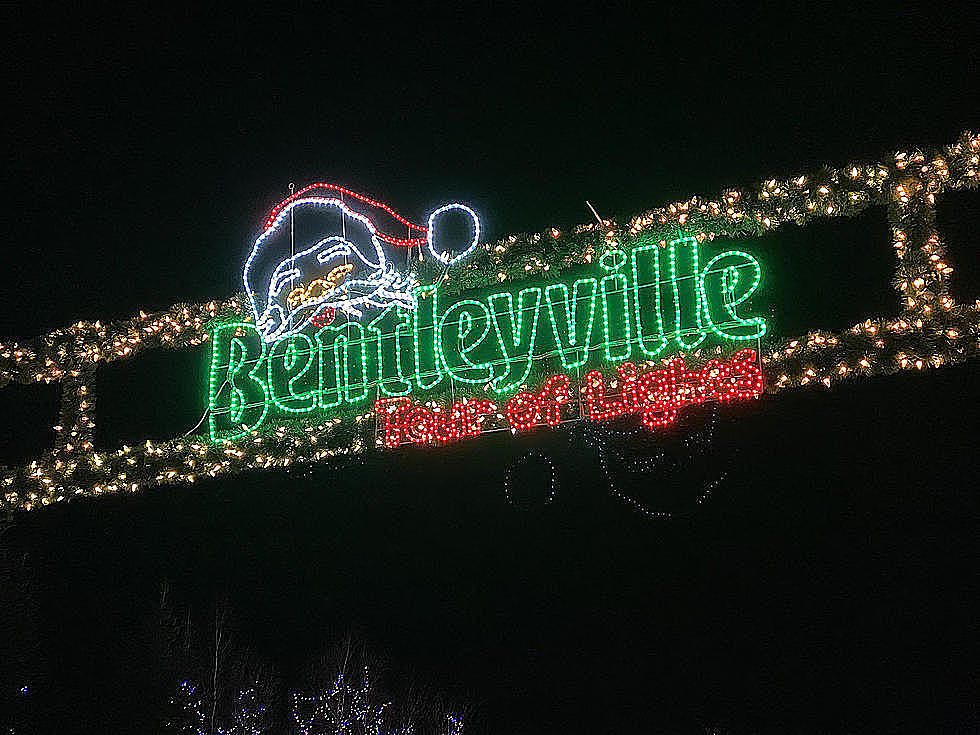 What To Expect At Duluth's Bentleyville Tour Of Lights 2021
Photo: Nick Cooper/TSM
Bentleyville is almost ready to open for the holidays, and people from all over the country will be flocking to the Twin Ports to celebrate at one of the most spectacular holiday exhibits in the United States.
Last year's experience was pretty different due to the pandemic. For the first time ever, it was a drive-through event, with a lot of the fun and freebies like standing by a fire or enjoying hot cocoa and cookies going away. This year's tour of lights returns to being a walk-through event, but what else should visitors expect this year?
When is Bentleyville open?
Bentleyville opens Saturday, November 20, with Santa skydiving into Bayfront Festival Park at 4:55 pm to kick off the first night. It will then be open every evening after all the way through December 27.
Hours will be 5 pm - 9 pm Sunday-Thursday and 5 pm - 10 pm Friday-Saturday. For locals, it is recommended that you come to Bentleyville during the week, since the weekends are obviously the busiest times.
What can you expect at Bentleyville this year?
The good news is that this year's tour of lights will see the return of some fan-favorite aspects they couldn't offer last year!
The first thing you'll notice that is different from last year is that entry is once again free. Last year, they charged a flat per-vehicle rate for admission. This year, entry is free once again, but it is $10 to park in the lot at Bayfront, if you choose to do so. There are also shuttles once again this year, and you can always park in Canal Park and walk to Bayfront.
If you enter at the main entrance on 5th Avenue West, you will see the gift shop where you can purchase Bentleyville souvenirs. From there, you will see the cookie house where you can get some free, delicious cookies and hot cocoa or coffee. That's right! They're back!
Then, as you walk through the massive light displays, you will come across the popcorn house, offering free popcorn. Right next door are the fire pits, where you can warm up, or even roast some marshmallows! Yep, those return this year too!
Lastly, toward the end of the tour is a path you can travel down to see Santa & Mrs. Claus. They will be standing near the line of guests to hear Christmas wishes and take photos. This year, to ensure the safety of all guests and staff, visitors will not be permitted to sit on Santa's lap. Each child 10 and under who visits with Santa will receive a knit winter hat and cookies!
Of course, there are tons of awesome light displays and photo opportunities along the way, so take your time, and enjoy your walk! One way to make sure you enjoy your Bentleyville visit as much as possible is to be dressed for the visit.
Make sure to bundle up and wear warm boots, as it is always chilly down by the lake. Even if it doesn't feel especially cold elsewhere in town, that breeze off the lake always makes things feel a little colder.
Feel free to bring your own stroller, though they do not recommend sleds. They clear the paved pathways daily and salt the ice and snow that is built up, so it is difficult to pull a sled. There are some strollers and wheelchairs available, free to use on a first-come-first-serve basis. You can grab one near the main entrance when entering Bentleyville or ask a staff member and they can assist you.
Of course, Bentleyville can't happen without a lot of volunteers in a wide variety of different jobs. If this is something that sounds interesting to you please reach out to them and get signed up. Bentleyville is free to attend, but donations are welcome and appreciated. They also collect non-perishable food items if you so choose to make a donation.
12 Names Santa's Reindeer Would Have If They Were From Duluth
The 14 Stages Of Christmas In The Northland