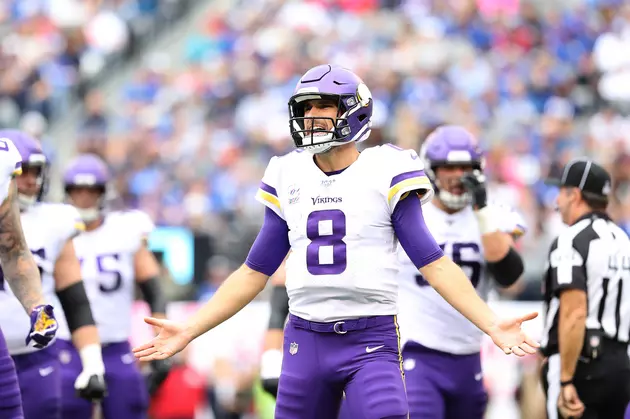 A Week of Minnesota Sports Uncertainty
Getty Images
I woke up around 5:15 in the morning. I didn't confirm the time, but I had an educated guess thanks to the sound of my dogs barking and sprinting to the kitchen for breakfast.
It was early, I was tired, and my head was spinning. That was all I knew.
I didn't know the date. Was I supposed to be logging in for my day job? Would I head to the radio studio soon? Was a gym or rink in my near future? Was some combination of those things about to happen?
Once my head stopped spinning, it was a rare day of "just" working my regular job. I was reminded it was Friday the 13th. Otherwise, I was clearly oblivious to the obvious superstition many have about that infamous date.
Those are interesting words – oblivious and obvious. At first glance, they're so very close in look and spelling. When using them, their definitions couldn't be much further apart.
Leave it to Minnesota sports to bring them together.
The Minnesota Vikings will embark on the postseason Sunday when they host the New York Giants. In terms of seeding and point spread, the Vikings are the favorite. With 13 previous wins this season, there have been plenty of great moments for Minnesota. That much is obvious.
Yet if any fan of the Vikings feels comfortable about Sunday, they must be oblivious to the nagging injuries on the offensive line, a defense that has made the likes of Mike White, Mac Jones, and Teddy Bridgewater look like Joe Montana in his prime, and a franchise history that's littered with playoff failure.
Most of the national media has made their feelings obvious. They feel New York is primed to pull the upset.
Shocking. National outlets pay more attention to New York than Minnesota. In other earth-shattering news, Shaquille O'Neal is tall.
Many picking the Giants are oblivious to just how good Kirk Cousins has been in clutch moments this season. They must be disregarding how much of a game-changer Justin Jefferson can be, and how much success the Vikings have enjoyed at home. Minnesota has been pegged as "fraudulent" and "vulnerable" all season, yet they've risen to the occasion 13 out of 17 times. How can anyone be so dismissive of this team?
That answer might be obvious as well. Choosing upsets makes for better entertainment. In the NFC, nobody really thinks Seattle can go into San Francisco and win. Tampa Bay has had a sub-.500 season but it's not exactly encouraged to pick against Tom Brady in any playoff scenario. Therefore, all the pundits are stuck looking at the third team in the NFC's pecking order.
Speaking of third teams, how about those Minnesota Twins? The Twins obviously upgraded their roster thanks to a reunion with Carlos Correa. It's a quality contract for all parties, and Correa appears to be in Minnesota for the long term.
I said in a previous column that I prefer Correa to be a member of the Twins. He immediately makes them better, but better than what? Not last year, at least not yet. The return of Correa gives this team a very similar lineup to a season ago. It certainly prevents the offseason from being an epic failure, but for now, it's a return to the status quo. I'm afraid it all took too long to get here. We'll find out if they waited too long to accomplish anything else before Opening Day.
Correa and the Twins front office apparently hope their fans are oblivious to the fact that Minnesota is the talented shortstop's third stop in roughly a month. It's a sweet sentiment that his heart was always in Minnesota, but his bank account seemed perfectly happy to be in San Francisco or New York.
The medical staff for the Twins must also be oblivious to the red flags seen by the Giants and Mets. Who does the team physicals? Dr. Pepper? Doc Holliday? Everything moved so quickly to assure the Twins would get their guy. I am completely oblivious to how this all worked out, but maybe it's better that way.
Assuming health, the potential for the Twins looks very high. Every franchise could attach "assuming health" to their hopes, as any team is an injury to a star away from being derailed. The difference with the Twins is that they are obviously banking on a lot of fragile pieces.
Players like Byron Buxton, Kenta Maeda, Tyler Mahle, Alex Kirilloff, Trevor Larnach, and Royce Lewis have all had obviously productive stretches on the baseball diamond. Yet all of them are either coming off or enduring significant injuries.
Unless you're oblivious to recent news, perhaps Correa is somewhat hampered too. One would think any real injury issue of his should be most obvious to the team that just had him. However, to assume the others will be in top-form whenever called upon seems oblivious to how the human body works.
As I mentioned, and perhaps better late than never, it's possible that the roster shake-up is just getting started. For some of the "fans" (HEAVY on the air quotes), this had better be true. Regarding the Correa acquisition, we've already heard "can he pitch?" Yet these comments come from folks who are often convinced that every move the Twins make will obviously end up terrible and cheap.
Those who are bursting with joy upon Correa's return will point to the sizeable contract and contend that the Twins aren't cheap. Yet, how do we know we aren't just oblivious to the obvious? Perhaps the Twins knew all along they could just throw money at the same guy they did last season and at least appear to be spending from a public relations perspective? Was the opt-out and everything else all planned? A conspiracy theory will just make my head spin again.
Regarding both the playoff chances for the Vikings and the Correa acquisition, I'm cautiously optimistic and excited to see it all play out. My lack of a staunch opinion will likely anger everyone.
This much is certain: The amount of love I have for both teams can be scarier than any Friday the 13th. If it doesn't go well for either team, my disappointment will be obvious.
I'll probably end up wishing I was oblivious to the sports world all along.