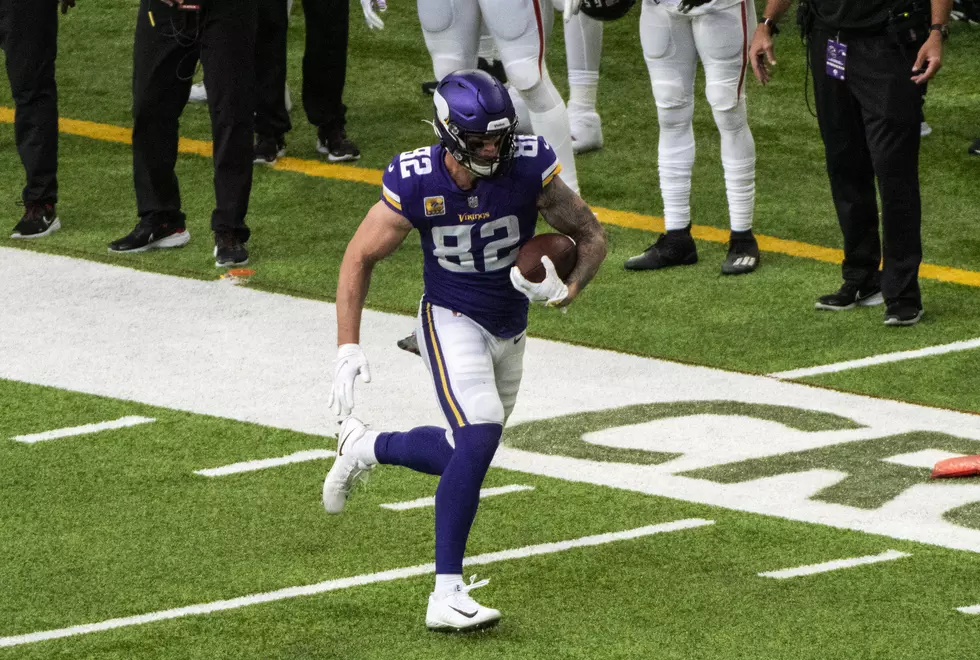 Kyle Rudolph Writes Touching Thank You Letter to Minnesota
Stephen Maturen/Getty Images
Former Vikings tight end Kyle Rudolph just wrote a touching thank you letter to Minnesota after he was released from the team Tuesday.
Life in the NFL is a fickle thing. It can make players millions of dollars when they're right out of college-- when the rest of us are often still trying to land our first jobs. But thanks to the league-imposed salary cap and other complicated financial implications, it can often cause a beloved member of your favorite team to be released-- even if they're a fan favorite.
And such it is for Vikings I mean, FORMER Vikings tight end, Kyle Rudolph. He was released by the team Tuesday in a move that was no doubt expected by both parties. According to this NFL.com story, the expense of keeping the 10-year veteran after he signed a contract extension back in 2019 was too much for the Vikings. "Rudolph was set for the second season of a four-year, $36 million pact and set to make a base salary of $7.65 million. Cutting Rudolph will save the Vikings a bit more than $5 million in cap space and $8 million in cash for 2021," the story noted.
But it's what he did AFTER he was released that caught my attention: Rudolph, who was drafted by the Vikings back in 2010, wrote a moving thank you letter that appeared in The Players Tribune. It was titled 'Dear Minnesota...' and it goes on to point out all the ways in which he was lucky to have spent the first 10 years of his career with the Vikings here in the Land of 10,000 Lakes. It's a really classy message: (which you should definitely read all of HERE-- just make sure  you have some Kleenex handy!)
"I have a lot of good football still to play. But it's still just football. Minnesota, on the other hand….. it's so much bigger than that. It's where our future is. It's where our heart is. It's home. Thanks again, Vikings fans — for everything. We'll see you around."
What a classy move by a really classy guy. Heck, being from Wisconsin, you might know that I'm a diehard Green Bay Packers fan-- but Rudolph's letter even got me a little choked up! Hopefully, he'll catch on with another team so we'll be able to see him on Sunday afternoons this fall.
Now while being an NFL player pretty much guarantees you'll make a decent amount of money, what are the jobs that will make you some decent coin here in the North Star State? Keep scrolling to check out the 30 Highest-Paying Jobs in Minnesota!
KEEP READING: The 30 Highest Paying Jobs in Minnesota